I have been teaching yoga for many years. My very 1st classes were held in a dirty, dusty, pigeon club hall behind a friend's house in South Melbourne around 1985. The classes in the beginning were called "Stretch, Strengthen and Relax" and later morphed into "Not Strictly Yoga", paying homage to Baz Lurhman's movie, Strictly Ballroom. The "we can make new dance moves" philosophy of Strictly Ballroom summed up my creative approach and my need to NOT be squashed into any prescribed boxes.
My creative life was kindled at the age of 8 when I started attending jazz ballet classes in Maryborough, South East Queensland. From the very first beat of "I'll be your Long Haired Lover from Liverpool" I loved it and lapped it up.
At the time my family was going through a very difficult period. Over a devastating couple of years I lost my teenage sister to cancer, my father left, we went bankrupt and we lost our family home. As you can imagine the surviving Heywood household was not a happy place and life was precarious. In the midst of so much chaos and loss, dancing was my saviour, my knight in shining armour. I was good at it, I was in control and nobody could take it away from me.
I threw myself into dancing with a burning passion and quickly decided that this was to be my vocation. I left school at 15, and began studying full-time. At 18 I moved to Melbourne to further my studies at the Victorian College of the Arts. 3 years later I graduated and leapt straight into full time employment with a dance company. I had done it. Dream achieved. All happy now and sailing straight ahead? Well, not quite!
It was probably around this age that I began to feel the thick, heavy blanket of emotional trauma that was suffocating me. I wasn't sure how to lift the blanket, but I was sure that I needed to radically change. So I stopped dancing, rejected everything I knew, threw myself into chaos and went into search mode.
Iyengar Yoga presented itself around this time. The Iyengar form was technical, disciplined, physically demanding and slotted nicely into my dancer's psyche. At that stage the only way I knew to work my body (and craved) was to make extreme demands and push it to the limits. All that physical output kept the deep emotions buried under the blanket. I despised corpse pose. If you asked me to slow down, tune in and feel, I was extremely uncomfortable!
My yoga journey was very sporadic for the first 10 years or so. On again, off again. I could never stick at it. It kept triggering lots of unconscious messy stuff. I wasn't ready to deal with any of it.
Around the 28 mark I decided to go back into the performing world and I joined a drama and physical theatre course. This lead me to 7 years of working as a performer; dancing, acting, singing and improvising as a street performer, and providing entertainment for corporate functions. It was around this time that I started teaching yoga more regularly. I was teaching with zero yoga qualifications so it was time to get qualified. It was also around this time that I started feeling the steady creep of chronic back pain.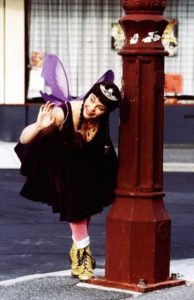 (right – Fairy Queen Esmerelda, 1998)
But I continued on teaching and performing, paying little attention to the squawking and screeching of my back. I launched myself onto the path of a traditional Iyengar Yoga teaching apprenticeship, but as I attempted to move more fully into the Iyengar mold, I rebelled strongly. I attended class less and less. My back pain got worse and worse. Disillusion and depression sunk in and that old blanket was tightly wrapped around me. A part of me was desperate to develop a different relationship with my body, my will, and my broader life path, but I kept on pushing.
This time around nature, or perhaps my higher self, stepped in. My back problem became acute and forced me to STOP. I simply couldn't move and was forced to face my fears. I was not super human, I was fragile and delicate. My physical prowess was not unlimited and to start healing I needed love, kindness and compassion.
After much self inquiry, lots of gentle, lying down and following my nose, I found an Okido Yoga teacher who was offering a 2 year teacher training course. She opened up an enormous new world of working with my energy, not against it. Her creative teaching style gave me the space, renewed faith, confidence and permission to begin exploring working with my body in a completely different way.
Finally, I started to breathe. At last the tight weave of the blanket began to open and little bits of light filtered through…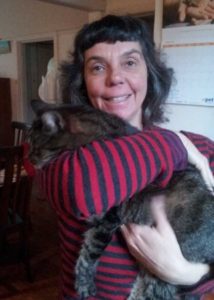 Now I'm well into my 50's and my interest and love for yoga keeps developing. My preferred working style is slow and subtle, listening in to the deep rhythms. I'm left with the inevitable battle scars, but the scars (old & new) are my teachers and friends. We have the occasional squabble but mostly we can work together and the learning continues.
2019 saw another enormous shift of the sails, and I now find myself anchored in the wilds of Far South Tassie. Solitude and Nature feature largely. Their omnipresence demands me to pay attention, and draws me back to a life of less clutter, less distraction, connecting me to a raw, wild, cyclical flow of aliveness…
I once again re-stitch my blanket. Re-threading and sewing in new colours and patterns. The old woven with the new. This blanket is part of the very fabric of me. The fibres are sewn into my soul. It's alive and it breathes my story.
(below – At the barre, 1979. That's me at the front)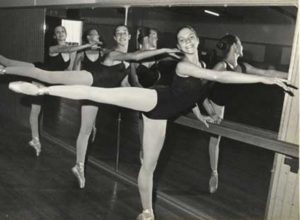 Dare to be different
Sing your soul's song
Breathe in your stories
and fly…