Do you live in the Huon Valley?
Are you looking for some gentle yoga & exercise? In a relaxed & friendly group setting?
Try Before You Buy! I have a FIRST CLASS FREE offer. (Scroll down for class details)
I teach inclusive yoga classes that are suitable for most adults. My style of teaching is light-hearted, my classes are relaxed and fun. I teach intuitively and creatively, drawing from a broad range of content and experience. I aim to create the best practice for the students present on any given day.
No two classes are the same as they unfold organically in response to what we find. We gather together, we check in, and then we start… I encourage you to work with kindness; fostering a genuine, loving conversation that inquires into questions like, "what are my needs today?…" Together, we work slowly, gently and safely to address wellness on all levels – emotional, physical, mental and spiritual. And, did I mention that we have fun? 🙂

FIRST CLASS is FREE, so what have you got to lose?
The only advice I have is – ANYONE in the Huon must try Claire's Yoga. I was a 'once bitten twice shy' kinda Yoga student, until I signed on to Claire's Yoga, and it changed my mind, body & soul…and life!
Barb W
Read more about Claire
Read more about Claire's Classes
Online Classes?
To comply with COVID distancing rules numbers are strictly limited. Bookings essential. No casual attendance. Interested? Enquire NOW.
Yoga with Claire in Geeveston & Huonville
*2 classes per week Super Special! Attend 2 weekly Huon Valley sessions & SAVE!

IN GEEVESTON
GeCo (Geeveston Community Centre)
The Annexe
School Rd, Geeveston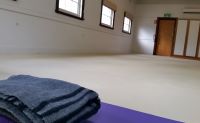 Tuesdays 6 – 7.15 pm
Term 4 – Oct 12 to Dec 14
T4 – 10 weeks – $160
Thursdays 9.30 – 10.45 am
Term 4 – Oct 14 to Dec 16
T4 – 9 weeks – $144
(no class Hobart Show Day – Oct 21)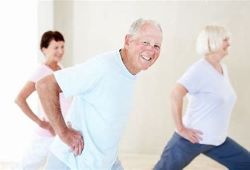 IN HUONVILLE
PCYC – Movement Studio
Wilmot Rd. Huonville
Tuesdays 9.30 – 10.45 am
Term 4 – Oct 12 to Dec 14
T4 – 10 weeks – $160 (PCYC member $150)
*2 classes per week – Super Special Discount – Term 4 Rate – $266
Wednesday Chair Yoga Class in Huonville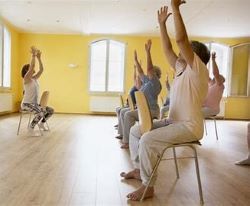 Yoga with Claire in a Chair
Accessible and safe class done with the support of a chair.
Huon Valley Hub
23 Main Street, Huonville
Wednesdays 11 am to 12 pm
Term 4 – from Oct 13
$5 per class
Note – This session is funded and managed by Huon Valley Council.
Please book thru Council on 6264 0300
BOOK Your Place NOW – Due to Covid restrictions numbers are strictly limited. Bookings are essential.
Make up classes? Need to miss a class? You can make up a missed class by attending the other session. Note – makeups do not carry over to the next term, and are only available space permitting.
Please transfer directly into my Commonwealth Bank account:

Claire Heywood
063 100
00621051

Put your name in as a reference and let me know via email when you have made a payment.

Got a question?
Contact Claire
Refund Policy:
I have a no refund policy. No credits or extensions. In exceptional circumstances please talk to me.
Note – if you are under financial hardship please contact me directly to discuss your payment.
Stay up to date. Subscribe to my E-News